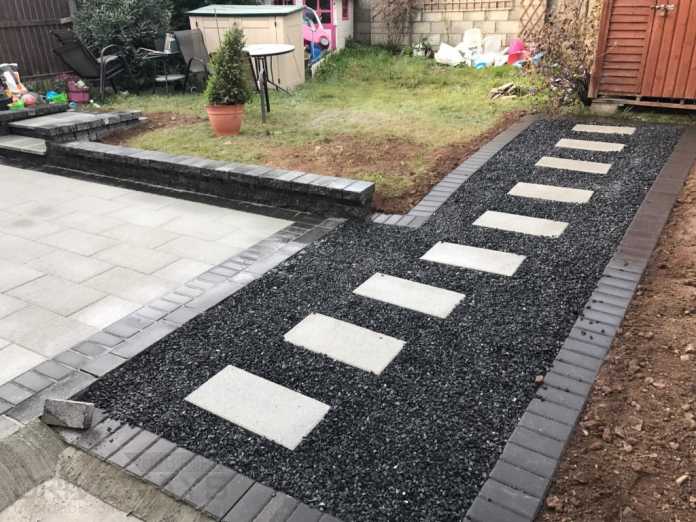 Patio contractors in Dublin. Patio paving specialists. We are an approved and registered patio paving company. With over 30 years experience at installing a wide of range patio types and styles. Offering unbeatable workmanship combined with outstanding value on all patio installations and builds.
We offer a free design service and guidance on all patio paving and patio areas in Dublin and its accessories. Feel free to call us anytime to get a free no obligation quote and advice on how best to approach the task of installing a new patio which not only looks good but will stay good throughout the years.
PATIO CONTRACTORS DUBLIN
When you combine our low prices and outstanding work, we offer a great choice for customers looking for patio paving in Dublin. Call us now for a free estimate on your driveway or patio. By using well-designed paving steps, paths and lighting, outdoor spaces can be brought to life. We are happy to help evolve existing designs by providing knowledgeable input, and we take pride in achieving the desired effect. We are also happy to restore existing paths and features to their former glory.
Let us help you make the right choice of materials by taking the time to listen to you and understand your vision. Given our experience we can cut the choices down and present an appropriate selection that includes some less well-known alternatives, to help ease the design process. Our aim is to deliver the best patio paving solutions for you in Dublin.
Maybe your interested in some of our other services for gardens and patios in Dublin. For example, our skilled fence installers in Dublin can supply and install a range of fencing styles for your garden. Or perhaps, you would like to know more about our lawn services in Dublin. If you need assistance, please make sure to get in touch so we can go through the options with you.
Reviews
Imprinted concrete driveway and patio, Blackrock, Co. Dublin
Well done to Pat and his team on a fantastic job. We really love our new imprinted concrete driveway and extended patio at the rear. A lot of work was done for a fair price. The job was started earlier than planned and was completed ahead of schedule. The team was well organised by Pat and the labourers were extremely hard working. They were very punctual, clean and obliging. All in all, they paid great attention to detail and had a very professional approach to everything they did. It was obvious that they were very proud of their work. O'Brien Driveways were a pleasure to deal with and I would have no hesitation in recommending them to anyone else.
Blackrock, Co. Dublin
Great Job!
Pat and his team did a fantastic job on our drive, very clean and professional. We are delighted with the high quality end result.