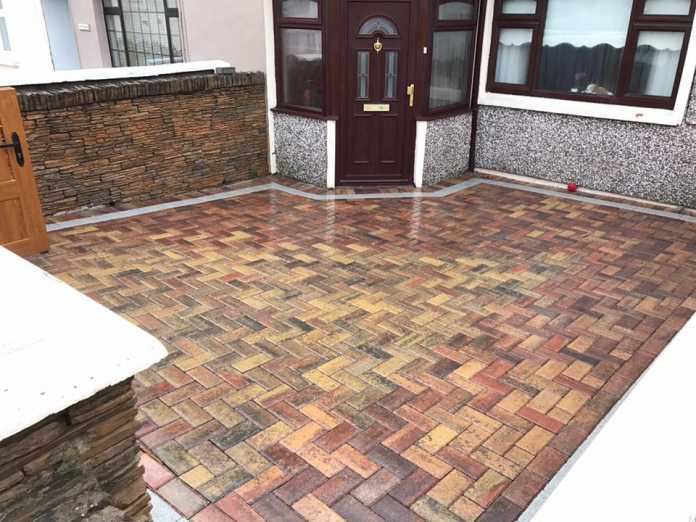 When it comes to creating your driveway in Dublin, the most common and reliable option is Paving Dublin. It is long lasting, durable and whilst costs a little more than tarmac, the overall durability and appearance makes it an outstanding option for your driveway.
PAVING DUBLIN
With paving in Dublin, you have multiple options to choose from. Most of the paving suppliers all have similar styles of paving, for example Pedesta paving from Tobermore and Slane paving from Kilsaran are the same shape allowing the same designs and patterns.
The biggest difference between manufacturers is normally the finished colour of your paving Dublin. A brindle colour(red and black mixed) can have completely different shades on either type of paving.
We recommend always picking from the two main suppliers for paving Dublin of either Kilsaran or Tobermore since both provide long manufacturer guarantees on there paving products.
LAYING YOUR PAVING
Block Paving can be laid in multiple styles with the most styles being herringbone laid either at 45 or 90 degrees. It can be laid in stretcher bond and basket weave as well although for stability, we recommend the herringbone for driveways in Dublin.
On pathways or patios you can pick whatever type of pattern you would like as the pressure from traffic will not affect it whatsoever.
There is cobble stone paving options available that can be laid in either 1, 2 or 3 sized paving blocks. The most popular option from Kilsaran is the Lismore range and the Tobermore option is the Tegula paving option.
This type of paving is laid in a staggered or offset pattern in lines across your driveway. You can choose to run the lines vertically, horizontally or at an angle.
PICKING A PAVING CONTRACTOR
During our free quote, we can go through the various Dublin paving options that are available and help to guide you picking a suitable driveway paving or garden paving option for your home.
The most important thing to remember is to pick the right paving contractor for your installation. With our team at O'Brien Driveways, you know you are getting a very well established paving company that will build your driveway or patio to a high standard and stand by their workmanship.
If you would like to know more, visit our website at https://www.obriendriveways.ie/