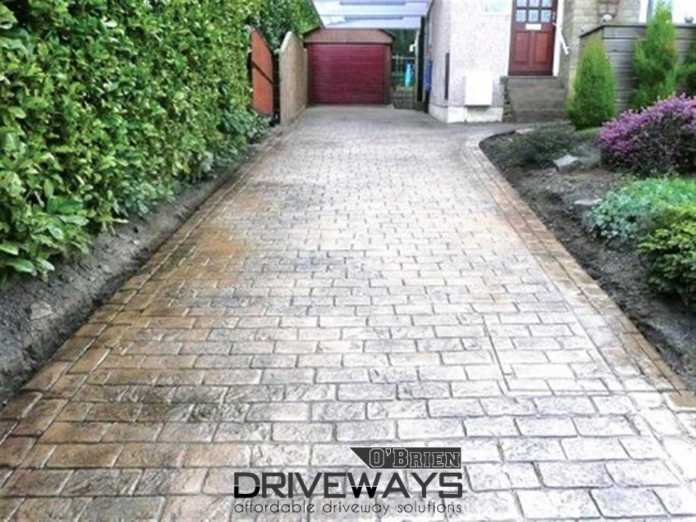 Affordable imprint concrete contractors in Dublin. Interested in having an imprint concrete driveway in Dublin? Give O'Brien Driveways a call today. Concrete is a long term solution that is both stable and long lasting. With decorative options, multiple shading and patterns available you are guaranteed a long lasting and unique driveway or patio area.
We offer a free design service and guidance on all imprint concrete in Dublin and its accessories. Feel free to call us anytime to get a free no obligation quote and advice on how best to approach the task of installing an imprint concrete surface which not only looks good but will stay good throughout the years.
IMPRINT CONCRETE DUBLIN
A concrete printed driveway can be designed by us to compliment your outdoor landscape or you may want the concrete stamped to match the style of your house. The versatility of concrete is what makes a concrete patio such a great choice! A printed or stamped concrete patio can be moulded into any shape to fit your needs or creative ideas. One of the most attractive advantages to having a concrete patio is the wide range of choice.
There are so many textures, colours, and stamped concrete patterns to choose from it makes choosing your patio a joy. You can choose coloured concrete, a shake on colour hardener, concrete stain, or a concrete dye. These can also be used together to create many colour variations.
When you combine our low prices and outstanding work, we offer a great choice for our Dublin clients. Call us now for a free estimate on imprinted concrete for your driveway. By using well-designed steps, paths and lighting, outdoor spaces can be brought to life. We are happy to help evolve existing designs by providing knowledgeable input, and we take pride in achieving the desired effect.
Reviews
Great Job, great value
I would highly recommend O Brien Driveways if you are looking to get your driveway done. Pat and his team did a fantastic job transforming our driveway. They delivered above and beyond our expectations.They we're very efficient and take great pride in their work. They listened to what we wanted and delivered at a great Price. Neighbours also said how tidy they were and the surrounding area was left spotless . I would highly recommend Pat and his team for any Job.
Resin pathway
Thank you Patrick and the lad's for the great job they did on my garden loving my new resin pathway.